Meest actieve berichtenplaatsers van deze week
Meest actieve berichtenplaatsers van deze maand
Wie is er online?
Er zijn in totaal
1
gebruiker online :: 0 Geregistreerd, 0 verborgen en 1 gast
Geen
Het hoogste aantal gelijktijdige online gebruikers is
11
. Dit aantal is bereikt op zo maa 07, 2021 10:03 am.
Pagina 1 van 2 • 1, 2
The South African government is planning to illegally amend the Constitution to steal White-owned land, but the people are still impatient and want to do it by force.

"You can not have land expropriation without compensation. It is illegal in international law. It is contrary to a dozen treaties that South Africa has signed and ratified. As such, it is a principle that is also enshrined in South African domestic law. You can not change the Constitution therefore to make it legal – Treaty law is superior law, it always applies."


'Zimbabwe-fication' Begins: Farmers Panic As South Africa Seizes First White-Owned Land
More info ;
https://www.zerohedge.com/news/2018-08-20/panicking-white-farmers-are-dumping-south-african-farmland-ahead-zimbabwe-fication
Britain supports South African land reform: PM May
CAPE TOWN (Reuters) - Britain supports South Africa's land reform program provided it is carried out legally, Prime Minister Theresa May said in Cape Town on Tuesday, adding that she would discuss the issue with President Cyril Ramaphosa.
"The UK has for some time now supported land reform. Land reform that is legal, that is transparent, that is generated through a democratic process," May told reporters.
"It's an issue that I raised and discussed with President Ramaphosa when he was in London earlier this year. I'll be talking about it with him later today."
https://www.reuters.com/article/us-safrica-britain-land/britain-supports-south-african-land-reform-pm-may-idUSKCN1LD0U7
South African bank wants farmers to repay debt for property even if it's seized
White farmers in South Africa will have to pay back their loan for property that could be expropriated under the land reform proposal that is currently being pushed by the ruling African National Congress (ANC).
The controversial bill, allowing the government to confiscate lands from white farmers without compensation and redistribute them to the black citizens, is currently pending further study after the Portfolio Committee on Public Works withdrew the draft.
An email from Nedbank, which emerged on social media last week, made it clear that expropriation without compensation is not going to be deemed as a legitimate reason for borrowers to default on their payments. Nedbank is among the country's ten largest lenders.
"It is important to note the Home Loan agreement is subject to a contractual agreement, and bond payments remain due and payable until such time that the bond is paid in full irrespective of any form of land expropriation – with or without compensation," the email reads. "We would encourage you to continue with the bond payments until such time a determination is made."
The bill, which evoked heated debate across the world and alleged violent attacks against white farmers, was approved by the ANC under President Cyril Ramaphosa in February. It was initially proposed in 2015 to alter the skewed property ownership patterns and to include the black majority into the developed sectors of the South African economy.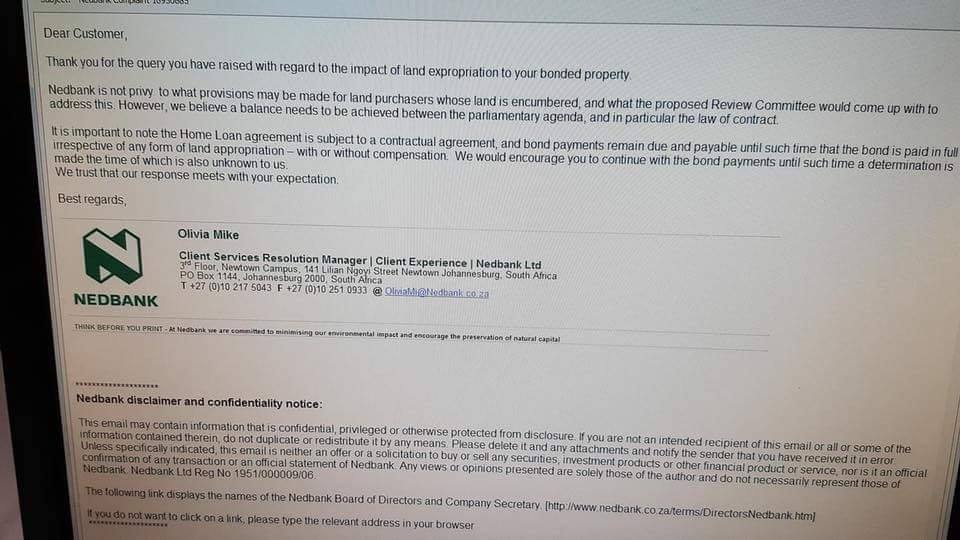 Agricultural banks have previously expressed concerns over the planned reform. They warn the proposed land reform creates considerable uncertainty for lenders, which are exposed to billions of rands worth of home and property loans. In the worst case scenario, banks would require government bailouts if landowners begin to default on loans. Nedbank is reportedly participating in the parliamentary debates, submitting its own proposals on land reform.
https://www.rt.com/business/437513-south-africa-debts-property-white/
Die hele slavernij had nimmer afgeschaft moeten zijn, de zweep weer uit de kast, die negerhut van ome tom weer in... doodranselen die vuile nikkers of de bomen in hangen!  

Werner Heisenberg




Posts

: 266


Punten

: 410


Reputatie

: 80


Join date

: 20-05-18



Ik ben tegen slavernij van ieder volk, al krijgen die zwarten wel veel praatjes tegenwoordig! Wist u dat de slavernij door neuzen is uitgevoerd? De schepen waren ook van hun!! Wist u dat er ook blanke slaven waren, Ieren die door het verjoodste Groot Britannia naar Amerika verscheept werden? De blanken hebben zelfs de slavernij afgeschaft!
In dat slavernij gebeuren zie ik niet zo veel,we hebben immers niets nodig van die klanten.Aan de andere kant ben ik ook niet van plan ze iets te geven of gebruik te laten maken van onze zaken die wij opgebouwd hebben.

De boel gescheiden houden lijkt me genoeg,zwart en Blank kunnen nu eenmaal niet samenleven,haringen en haaien gaan ook niet samen.
Stelen zit die nikkers in het bloed... Dat zie je in Nederland ook....

Skinhead




Posts

: 126


Punten

: 184


Reputatie

: 22


Join date

: 26-08-18





Vele nikkers zitten in de gevangenis, dit komt hoogstwaarschijnlijk door hun luiheid, onder het vluchten voor de politie na het stelen vallen ze nog wel eens in slaap!

Je hebt er inderdaad niets aan, echter de zweep hield ze wel iets rustiger. 
Weet wel dat er meer blanken als slaven zijn verhandeld dan nikkers in het verleden. De nikkers hebben dus niet het patent op de slavernij.

Werner Heisenberg




Posts

: 266


Punten

: 410


Reputatie

: 80


Join date

: 20-05-18



Ze hebben wel goede leiding nodig, want zelf een land besturen lukt al niet, daar is hun IQ te laag voor! En ze laten inderdaad de hoogste criminaliteits cijvers zien. Laatst is er een IQ test geweest, bleken Somaliers nog lager te scoren dan een gorilla chimpansee, nog geen 70. Ja,onze cultuur wordt hier echt door,verrijkt!
Pagina 1 van 2 • 1, 2
---
Permissies van dit forum:
Je
mag geen
reacties plaatsen in dit subforum